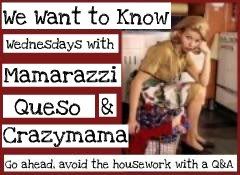 Everyone seems to have a quirky family situation-- what is something unique about your family dynamic?
What is the most stressful aspect to blogging (aside from the network going down)?
We all end up on a blog at some point in our day, but name your top 3 favorite websites you flock to daily (non blog)!
What's your sign? Believe in it or not, does any part ring true to you?
IceCream!! ICECREAM!! We all scream for icecream! Name your favorite flavor/brand! (Its hot here, can't help it)
~~~~~~~~~~~~~~~~~~~~~~~~~~~~~~~~~~~~~~~~~~~~~~~~~
Quirky family situation: Lets see… my daughters first name is my maiden name. Which wouldn't be so quirky if I had actually changed my last name when I got married; 7 years ago. No judging people! I don't judge individuals that don't change their last names back when they get divorced. So don't judge me and my last name changing issues. Anyways, so when she was born we got a lot of questioning looks from the nurses wondering why in the world we would name our child Taylor Taylor. Cause they've never seen a weirder name then that? The Ball and Chain was very quick to point out to everyone I have last name changing issues and made sure all the documents got the correct last name before leaving the hospital.
Stressful aspect to blogging: Where the hell are my followers?? My button has been missing for DAYS! How are people suppose to join my chaotic world if I don't have the link? And don't tell me it's because I'm not cool enough to be your friend. Cause I am! I swear!
Websites you flock to daily: Facebook, Yahoo, and Banking. Hello! Gotta sniper people's pages, bullshit with my favorite peeps to pass the time at work, and it's a must to watch the Ball and Chains spending. That way I have more funds to online shop. :)
What's your sign: I'm an Aries. Independent. Generous. Optimistic. Moody. Go-getter. Short tempered. Aggressive. Direct. Loyal. Energetic. Confident. Passionate. Impatient. Quick-witted. Love me or hate me; I'm 100% an Aries!
IceCream: This could be the hardest question of all time! Or it could just be hard cause I've been on a stupid diet for almost a month. Alright, first one that comes to mind is Ben & Jerry's Coffee Heath. Then there's Vic's Peppermint (local ice cream shop). Can't forget Thrifty's Mint Chip (chocolate flakes, not chunks). And I really like Ben & Jerry's Mint Cookie but that one is hard to find. OH and Coldstone's Coffee! So maybe I have an issue with ice cream too.