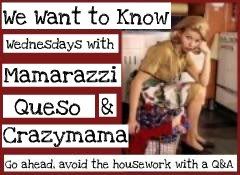 You have been asked to give a 10 minute speech to teenage girls. What is it about?
Do you have a pet? Tell us about them. No pets? Why?
What is the biggest inconvenience about the place you're currently living?
What do you think is the single best decision you have made in your life so far?
What are the THREE "nevers" of your life? (things you would never do or have never done)
~~~~~~~~~~~~~~~~~~~~~~~~~~~~~~~~~~~~~~~~~~~~~~~~~~
Speech: Only 10 mins? That's going to be hard! I honestly don't think I would give a speech on all the things that you should and shouldn't do because we all know it'll just drive them to do it. Instead I would hold an open mic type of deal and let them ask me questions. They need to know the honest truth about sex, drugs, and rock & roll; so what other way can they get that information but from the horses mouth? I'm an open book! I am who I am because of the things I went through; no shame there!

Pets: We have two cats, Tigger and Pooh; the Easter Bunny brought them 3 years ago. Yes, you read that right, the Easter Bunny. Didn't you know good ol' Mr. Hippity Hoppity likes cats? And cats like rabbits? Get with it people!

Inconvenience where I live: Section 8 (low income/g'ment housing). Hold on! Before you tar and feather me let me explain. I'm all for helping people get back on their feet; I've been there, but handing over keys to a 3,000 sqft home (the typical size in my area or close to) is not realistically helping someone get back on their feet. It's giving them false hope. The kicker for the area I live in, is these homes are beautiful and they aren't being taken care of.

Best decision: I wouldn't call it a decision, it was more like an OOPS 8 years ago when I got pregnant with my first ruggrat. The two additional ruggrats rank right up there with Mr. Oops.

Three nevers: 1. I will NEVER allow my kids to have a pet spider. I thought when I was a teenage if I watched

Arachnophobia

for the 2nd time it would cure my phobia. Wrong! 2. I've never traveled outside of the US, but once the ruggrats are grown it's the first thing I plan on doing with the Ball and Chain. Ok, maybe the second. ;) 3. I'll never turn down a good margarita or an ice cold beer. Unless I'm preggers. Duh!